We set off from EC London on Friday 3rd June prepared for the sun and we were in luck. The weather stayed hot and our group of students walked through some of the quieter streets down to the Embankment where we caught a Thames Clipper riverboat for the journey to Greenwich.
Seeing London from the river is a rare treat and we enjoyed the rich variety of architecture enhanced by glimpses of St Pauls, a full view of the Tower of London, passing under Tower Bridge and then the houses and flats on the former dockland areas all the way down to the skyscraper centre of Canary Wharf.
The boat dropped us close to where the Cutty Sark is being restored, and we walked through the centre of Greenwich to the National Maritime Museum which is set in the grounds of the old Royal Naval College. The site was designed by Sir Christopher Wren and the buildings are renowned for their architecture and setting.
The museum covers maritime history from the 16th century and kept us busy for a good while. When we finished we walked up the hill in Greenwich Park and for a long time we sat on the benches (with hot chocolate) looking back at the views of Greenwich with photos being taken of each other against the backdrop of the Naval College and the skyscrapers of Canary Wharf.
We then walked across to visit the Royal Observatory, the home of the famous Greenwich Meridian where cameras again were very evident!
We relax for a while at the top of Greenwich Park in the sun admiring the view of London.
Time had pressed on so we walked back through the centre of Greenwich with some window shopping taking place but still caught our Thames Clipper for the return journey. The sun accompanied us for the river trip which made the Thames sparkle even more!
It was a lovely way to enjoy the City and a lot of fun.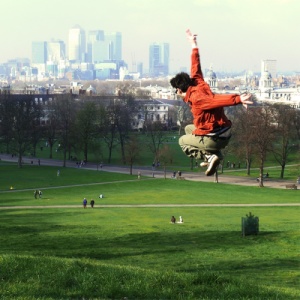 Comments
comments