EC London does Jeans for Genes
Today is Jeans for Genes day, which is a charity that raises money and awareness for Genetic Disorders UK. Jeans for Genes is an annual fundraising event and we traditionally do everything we can to support…
This year EC London English Language School proudly took part in this charitable event by wearing……..Jeans and double denim! Staff have all donated money and you can too! If you wish to donate we will accept any donation (please come and see the lovely Reception staff), or you can donate on their website, as mentioned below.
Here is a photo of some of the EC London team rocking denim and some being daring enough to go for the double denim look. Not everyone can carry this off – but Ramao, Kevin, Lilian and Maria looked fantastic!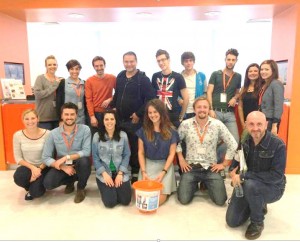 For more information please visit http://www.jeansforgenesday.org/aboutjeansforgenesday/
If you want to know more about studying English at EC London English Language School come and pay us a visit!
Comments
comments