The Academic Year programme offers lots of extra learning opportunities for EC students. This includes the monthly Academic Year Lecture. Every month, a teacher holds a lecture on a different topic. It is a great way to learn new words in English and to learn more about the UK. These lectures are very useful for students hoping to take an IELTS preparation course or TOEFL preparation course, as the lecture is great listening practice. Pervious lectures have included – football, the UK and the Northern Lights, so there is something for everyone.
This month, Hajer went along to the lecture and this is what she had to say:
Last week we had a fantastic Academic YearLecture, as part of the Academic Year Programme, about social class in England . We were taught about the three important and common classes in England.
•The working class – traditionally the largest social class in the UK.
• The middle class – which can be divided into two groups: the 'new' middle class and the 'comfortable' middle class.
•The upper class – normally you are born into this group or you can move into this group if the Queen gives you a title.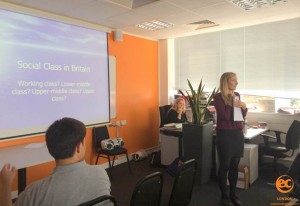 The lecture looked at how your social class background can affect your taste. Now, I know a lot about every social class in  England. For example, I learned that you can  guess which class a person belongs to from their accent, the way they drink a cup of tea and much more. It was very interesting, because not every country has a very big  difference between their social classes. It was very interesting, because not every country has a very big difference between their social classes, especially the upper class.
I wish that we could have more lessons like this more than once a month.
Hajer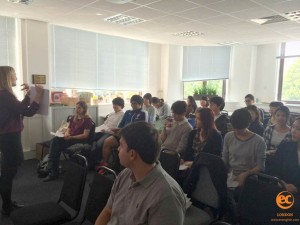 Some new words the students learned at this month's lecture included:
'blue collar' workers – traditionally an unskilled worker, like a miner or farmer
'white collar' worker – traditionally a skilled worker, like a doctor or lawyer
These names come from the type of shirt the workers used to wear. Doctors and lawyers wore white shirts as they worked in a office, while miners wore blue shirts to work
Comments
comments