Among all the students who left last Friday we also said goodbye to Simone and Tommaso, our Accommodation and Student Services Interns. Here is what they told us about their EC intern experience at EC London.
Tommaso De Marco, Student Services Intern:
I have worked at EC London as an Intern for two and a half months. The atmosphere of the workplace was great, the students were really kind and I became friends with all my colleagues, who are really nice people: I think I'm going to miss them a lot.
Even though I was an Intern, I had the possibility to join some of the classes, and I could see how great the teaching method is; the teachers are really cool because they've got a lot of enthusiasm and vitality.
One of the things I liked the most was the school's Social Programme: there are so many activities such as football matches and students' dinners but also free English Lessons.
Even if the EC London english language center is not 100m from Santa Monica State Beach like the Los Angeles' one, I have to say that it's still in a really cool central location in London.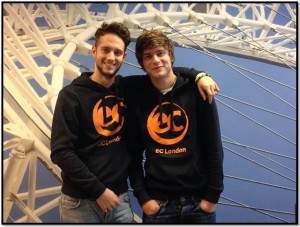 Simone Bovi, Accommodation Intern:
Hi, my name is Simone. I'm 19 years old and I come from Italy. I've been in EC London for two months. I was an Accommodation intern, the best team ever! Tanya, Nikki and Carla are beautiful people who helped me a lot.
But I joined the lessons too. I think this is a really good school, it is modern and comfortable. The lessons are very useful and I really enjoyed them. It was really good for me because I got to know a lot of fantastic people from all around the world. In EC London we have a Social Programme to improve our English skills and meet new people. The Staff are really nice, always ready to help you.
As well as that, London is fantastic! It is a multi-cultural city where you can find whatever you want. I was really impressed when I went to Parliament Hill where there is a spectacular view. I also liked Camden Market and watched a football match in Emirates Stadium. If I have a chance to be in EC London as a student or an intern again I wouldn't have to think for more than a second to say YES!
We wish them all the best in their future adventures and they will be missed in Reception!
Comments
comments