Last week we had to say goodbye to our lovely German intern Simone. EC London would like to thank Simi for all dedication and hard work! Her smile will be missed in the Library. Here is what she had to say about her internship experience:
Hey,
My name is Simone and I was an academic intern at EC London. I stayed in London for the last two months and it has been such an amazing time that I don't want to leave now. I met so many wonderful and inspiring people, was part of a great team and got many interesting tasks to do. They also supported me in my career to become a high school teacher in giving me lots of advice and showing me the right preparation techniques for the next exam. Thank you all so much, I really appreciated that!!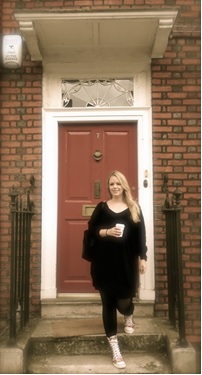 If you think it is boring to be an intern…then I have to disappoint you. 🙂 I was never bored, always had something to do and felt to be part of the team, representing EC London. 
After being a student in different schools in New York and Boston, I know how important it is to encourage the students, cheer them up if necessary and show them that learning a language can be fun!
I will miss all of you guys, especially (my) the academic team Jess, Ramao, Joelle and Daphne. Thank you so much for everything!! I also thank Rich for encouraging and supporting me. Many thanks also to the whole team of EC London and all the teachers of course for giving me advice as well!
I found new friends here in London, fell in love with the city and will definitely come back as soon as possible!!
X
Cheers!
Simi
Find out more about General English Courses in UK.
Comments
comments