The week has just started and our Social Programme is ready for all the students in EC English Language Center in London to make the most of this week . We hope you all had a great busy weekend and you had the chance to recharge batteries! Our Social Programme is here to help you have an unforgettable experience so please check it out and join us! There is always something going on!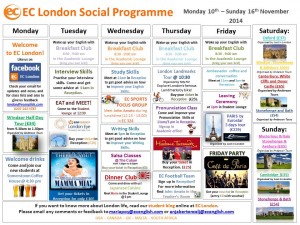 HIGHLIGHTS:
ON MONDAY –Welcome drinks. Come over Somerstown Coffee House to warmly welcome the new students arriving this week. You will find us there around 4.30 so don't think it more than once and join us!
ON TUESDAY – As you all know, we have an astonishing calendar of musicals running over the next weeks and this Tuesday we are going to see Mamma Mia. Tickets are unfortunately sold out but remember that you can already get the ones for ONCE taking place on Thursday 27th November. Be quick and grab them as we will probably sell them out in the next few days! Treat yourself for only £30.
ON WEDNESDAY – Our Dinner Club will never disappoint you! This week we are going for Japanese cuisine! If you are a fan of sushi or you want to become one of them with a first try… Come! As every week, find Maria in reception at 6 pm.
Also on Wednesday there will be an "EC Sports Focus Group" led by our teacher John Amato. You can find him in room EC 324 to have a chat about the sports you would like to do during your stay in London. We have currently a football team meeting every Thursday but we would like to help you practice those sports you used to play in your country but you stopped because you have not found a nearby place where to do it or mates. Come over and let us know your preferences!! We will give you advice and maybe find you people to play with! From 12.15 – 13 pm in room EC 324.
ON THURSDAY – One more week our students are having a Football Match! Sign up in Reception or find John Amato in the Teacher's room if you need any details about gathering place and time!
AT THE WEEKEND – Have a look at the trips arranged for this weekend. Among many others we also offer Paris by Eurostar, Oxford, Stonehenge & Bath and trip to Cambridge. If you need any further information regarding the services included in our tours packages, please feel free to come to reception and ask! Anja and Pipsa will be more than happy to help you.
We would also like to remind you that we are always open to hear what you have to say! We do try our best to organize what might be interesting to see or do in London… but none better than you can tell us those things so please leave a comment bellow.
EC English Language Center in London wishes you a great week and enjoy your lessons!
Comments
comments