As some of you who are studying here at EC London may or may not know, tomorrow is Shrove Tuesday, also known here in the UK as Pancake day.
Shrove Tuesday a religious day during which many Christians analyse their lives and think about how they can improve themselves in the future. In the past it was the day when people would use up all the ingredients in the kitchen cupboards (namely flour, eggs, sugar and milk) and make pancakes, before they fasted for the 46 days of Lent.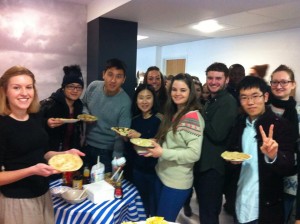 While pancake day has its origins in religion, nowadays it's a day for friends and families to spend time together and eat pancakes! Throughout London there will be restaurants serving pancakes and there will also be places doing pancake related events, such as the Parliamentary Pancake Race, happening near Westminster at 10am. Look and see what events the TimeOut website has for pancake day!
To find out more about Pancake day and its origins and to practice your reading skills, especially if you're studying for the IELTS in London, why not check out Project Britain page for more information.
Comments
comments