Do you fancy a drink after an intensive school day? Join our "Get Together Thursday" social activity or the "Welcome drinks" on Monday afternoon and you won't be disappointed! How it works? Easy, you just need to meet our student ambssadors at reception and go to a pub all together. You don't have to sign up and it's free (except for the drinks :)).
So, what are you waiting for? Join us and have a friendly chat with people from all over the world! Let's have a look at last week's meetup with Ahmet, our student of ESOL in London, Santiago, one of our advanced student, and Andy, our EC teacher.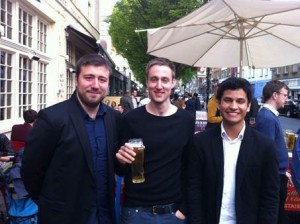 This is a beautiful photo of three lovely people from EC London. It was taken on Santiago's last day. Teachers and students normally gather at the local pub on Fridays to socialise, meet new people, have fun and above all, to practise their English. Every student is more than welcome to come along and make the most of their Fridays with good company and talk!
Comments
comments