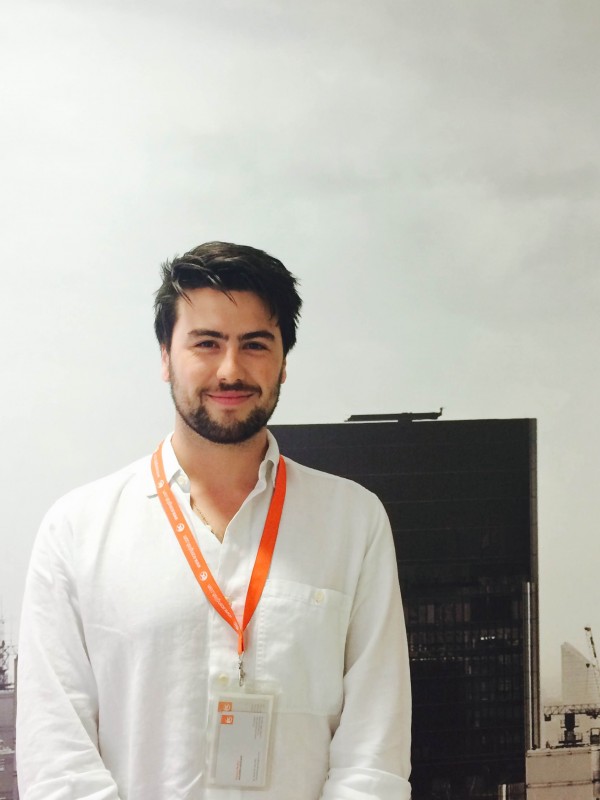 Today we have a very special blog from a very special person.He was part of our fantastic team in school of English EC London for over 1 year. First Ramao was a student in EC London followed by an Internship and became an Academic Assistant. In his blog It's all about tips for transport, accommodation and the passion of travelling.
"My name is Ramao, I've been living in London for a year and a half. Since I moved to London I've visited over 42 different cities in 20 countries (so far) – most of them on weekend trips. My hobbies are cooking, photography and, of course, travelling.
London then. Pretty amazing huh? Massive yes – especially for those with wanderlust
Let's skip the obvious about the city: Yes, it's expensive. Yes, it's too big. Yes, it's crowded and yet you can be lonely. Yes, the air pollution is awful, not to mention the weather. And even with all those negative points, London is a place to be. It might not be THE place, but still…
I'm not going to say that it's the dream for everyone, I do believe people can actually hate this city – mainly because of some of the reasons above. Despite all of that, if you have a thing for travel then I must say there's no better place to be.
London is one the most connected cities in the world (if not THE most) with five airports and one international train station. Apart from that, geographically London is sort of a gateway to Europe – you can be in the majority of countries in Europe and North Africa in 3 hours. I come from Brazil (the extreme south) so my personal standards of distance and time in terms of travelling are 'slightly' bigger than those of many Europeans. . In my opinion, spending 3 hours travelling (either by plane, train, coach or car) is really quick, whereas some of my European friends think it's an exhausting journey.
If you are not convinced yet, here are some facts:
London has the busiest sky in the world:
London Heathrow Airport (LHR) is located 32km (20 miles) to the west of Central London. It's the busiest airport in the entire world with 80 airlines operating and 185 destinations in 84 countries it handles 201.000 passengers arriving and departing every day.
London Gatwick (GTW) located 45km (28 miles) south of London, is the most efficient single-runway airport in the world, serving 200 destinations in 90 countries for 38 million customers a year.
London Luton Airport (LTN) located just 56km (35 miles) north-west of Central London, is one of the UK's largest airports, carrying 10.5 million passengers in 2014. The airport is a major base for low-cost or "no-frills" air travel.
London Stansted Airport (STN) is located 64km (40 miles) to the north-east of London and is the UK's third busiest airport serving 18 million passengers a year and one of the fastest growing airports in Europe.
London City Airport (LCY) located just 9.5km (6 miles) east of Central London and 4.8km (3 miles) from Canary Wharf. That location makes it really easy to get to: just 22 minutes from Central London by DLR which is pretty cool.
All the airports are really easy to get to. For example, City and Heathrow can be reached by Tube; Stansted, Gatwick and Luton by Train and all of them by coach and special transfer services.
"Don't like flying? No worries mate, take a train!"
St. Pancras International Train Station, in the city centre, right beside the iconic King's Cross (hello Harry Potter fans: platform 9 ¾!), has the Eurostar Train which can take you through the Eurotunnel to central Paris within 2h15. It is the only high speed train that directly links the UK to France and Belgium via the Channel Tunnel. The best thing is once you cross the tunnel you can reach over 100 European destinations.
By train you can also visit basically every place in the UK, there are many services departing from central London Stations such as King's Cross, Waterloo, Paddington, Blackfriars and London Bridge.
Can't be bothered to travel by train? Afraid of being under the Sea for a while? Then coach is an option too.
From London Victoria Coach Station, also located in central London, you can take buses to a wide range of places. It's worth mentioning that coaches are usually the cheapest way to travel. In the 12 months since March 2014, 14 million passengers travelled on 240,000 services to and from the station.
Going to continental Europe, the buses can either board a ferry that crosses the Channel from Dover to Calais or Dunkirk within 2 hours, or board on the special wagons to cross the Eurotunnel.
At this point you should be convinced that London is indeed very well connected and easy to get to pretty much everywhere by any mode of transport.
Now, here are my tips to save a couple of quid and perhaps some time.
Looking for tickets:
When booking flights, in my opinion the best website to go to is: http://www.skyscanner.net/. Sometimes I don't even have an specific destination in mind, I just want to travel. In that case, I use a very helpful tool on the website: I choose my flight from "London (Any)" and in the "To" box I type "Anywhere". Then you just pick the dates and check the prices and dates in the results to see what pleases you.
I usually look for flights departing Friday afternoon/early evening and returning Sunday late night or Monday early in the morning. A weekend is usually enough for visiting and having a good time in the majority of cities. This is what works for me, some people like to spend more time at their destinations. But I sincerely believe that if you do some research before travelling a weekend is enough.
N.B.: If you have a specific date in mind, try to book the flights at least 8 weeks in advance, that way you can find good deals. The sooner the better, if you are not sure about the prices, my suggestion is to create a  price alert – this can be really helpful!
For coach and other train trips my advice is the same: the sooner you book it, the better. Keep in mind that coaches (as far as I've experienced) do not offer tickets as far in in advance as flights or trains. So don't panic if you can't find it 3 months ahead.
Getting to the airport:
To get to the airports I usually take the train services as they are faster and if booked in advance (at least 15 days prior to the travelling date) can be a good price. If you're travelling with friends you can find some group deals on some of the services. Also, for the young, elderly and family/groups there are the Railcards which offer a 30% (!!) discount on tickets: (http://www.railcard.co.uk/).
I always plan to arrive 1 hour prior to departure at the airport. That time is usually enough to go through security and passport control. If you have a visa or need to check in add some extra time to make sure you won't miss your flight.
Money:
Considering the pound is really strong at the moment I don't bother exchanging money before travelling, I just take some from the ATM as soon as I arrive. My bank tends to have really good rate – check with yours.
Luggage:
The best luggage for me is a good-sized backpack (25l or so), as they are the easiest. At least for my weekend trips. Carrying cabin-sized suitcases annoys me a lot. Also, on the low-cost flights if you are the last one in the queue to board (as I usually am), you might have your suitcase checked-in and have to wait for it to be delivered to you when you land. If you have a backpack, they let you in even if it's full and you can just place them underneath the seat in front of you. J
Accommodation:
I'm not bringing you anything new here. The way I like to travel, hostels are usually the best accommodation option. Hostels, usually (must emphasize!) have that friendly/community/we-are-all-in-this-together atmosphere, meaning that you can make good friends, find people with similar interests and even travel mates. Some cities are really into this vibe (such as Barcelona with the best hostels in terms of socializing I have ever found), some are not (have to point out one here: Edinburgh). There are also loads of types of hostels nowadays. You can find boutique-hostels (which are too pretentious in my opinion. They are not hostels, just cheap hotels), chain hostels (like St. Christopher's, Generator, etc), which are cool but don't have the hostel vibe and are usually more expensive than a hostel should be. Last but not least you have the simple hostel with friendly staff, comfy beds, nice showers, decent Wi-Fi and nice people – those are the best in my opinion. You can only learn how to identify those by experience. Some say they are boutique but are not, some look really simple and are quite posh.
I usually look for hostels here: www.hostelworld.com. My tips are: check the location and transport connections, check the latest reviews, look to see if they have good and free Wi-Fi (essential). The stamp  'Hostel World recommends' tends to be helpful.
It's worth mentioning that some places don't have very  good deals and are expensive anyway (hello Zurich and Paris). In those places I go to my second option: www.airbnb.com. Once in Zurich I found a flat that was really well located and much cheaper than any hostel available.
I must mention that I've met some people doing couch-surfing and it seems to be a great thing. But I haven't tried yet.
I have arrived, what now?
I like to do some research before going: check if the local airport has at least a couple of minutes of free Wi-Fi, how to get from the airport to the accommodation, what are the options if my flight is delayed etc. Another good thing that I usually do is star the important places for me on Google Maps and save the map offline. On most mobile phones you can use the GPS without Wi-Fi/3G/4G connection if you have saved the map offline. This can save a life. Honestly.
Getting around:
During my research before travelling I try to get to know the places more as a local rather than a tourist. To do that I look for local blogs, the place's website and dig around the internet for local advice. Searching through hashtags on Instagram can be a really good thing, especially for sight-seeing. I don't really like to get information from TripAdvisor, I don't think it's reliable or well updated. The best travel-guides I've ever seen are the Lonely Planet ones, you can check the website to get an idea; http://www.lonelyplanet.com/. And the best tip for doing it like a local is to actually talk to local people. I ask random people on the streets where are their favourite places, restaurants, bars, parks and so on. This way you might be able to avoid some tourist-traps.
To visit museums and popular attractions where you pay an entrance fee: book it online. By doing it you normally jump those massive queues (the Vatican museum, for example) and pay just a bit more (something between €3 and €5). Sometimes even by booking in front of the attraction you can avoid waiting.
One of my favourite things to do is the Free Walking tours that you can do basically anywhere. Look for it online or ask in your hostel – they always have one to recommend.
Re tours: double-check if it's really worth it or if it's better go to the places by yourself. Once in Greece with friends we were recommended by our hostel's receptionist to book a "cruise" to visit 3 islands. How I regret that! The cruise was expensive, full of 70-years-old and didn't take us to the best island "due to boat docking issues (??)". Returning to our hostel we found that we could have done it by ourselves. It would have been much cheaper and more suitable for us. Also, I stepped on a hedgehog in the sea. But believe me, Greece is amazing! I definitely recommend it, not joking.
I think those are my tips for travelling."
Comments
comments