Víctor is a great student from Spain who is following a General English course. He is going to stay with us until the end of February. He would like to share with us his current experience at EC London and also his previous experience at EC Bristol.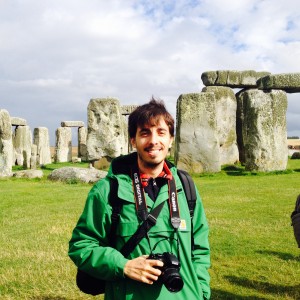 Hi everyone! My name is Víctor Hugo and I'm from Barcelona in Catalonia. (If you were born in the 80`s o before, perhaps you remember Barcelona '92).

My history with EC School started last February 15 in EC Bristol when I was 28. Now I'm 29 and I'm in EC London until February 16.

Before my adventure in EC, I had a good work in my city but always I have thought I will must to improve my English -in fact to improve also in the "business world"- and after too much thinking, I decided to finish my work and go to the UK for one year to learn the language and know the England's culture.

I have two objectives to learn English in the UK: I love travelling and it's important for me to communicate with people from others countries and only it's possible if you can speak English because it's the first language in the world. (Actually I wanted to lived an international experience and knew others cultures!); And the other reason, perhaps the most important for myself in the future, I need to speak and understand very well the language for my type of job. (My Bachelor's Degree at the university it's Protocol, Institutional Relations and Event Organization; As you can imagine, I need it!).

1stly, I wanted to go to Bristol because I have had a work-partner from Bristol and she explained Bristol will like me. And indeed, that's how it went! Bristol it's a small city in the South West from England and the population from Bristol it's around half million citizens.

It's a very green city, in fact, this year it's the European Green Capital 15!

I loved my neighbourhood Clifton. It has a lot zones to walk inside parks or spaces to be in pace like 'Zen'. The EC Bristol School it's a lovely school and the ambient and the relation with teachers and classmates it's a really "familiar" ambient. I lived in my flat in the residence Pro Cathedral Studios. It's like a castle but the building is new and it was very comfortable with cinema and gym!

While I was in EC Bristol, I could visit Cardiff in Wales, Bath (Roman Baths it's amazing), Clevedon, Oxford, Salisbury and Stonehenge. Now, I can say to live in Bristol it was a good decision.

2ndly, When I was half year in Bristol I wanted to change for half year more to London because Bristol was small for me. As good experience in EC Bristol I wanted to continue with EC School and now I'm studying in EC School in the London's centre!

The school it's look new and my teachers are very funny. I'm happy with my new class.

To taste to live a different experience from Bristol, I decided to live in a Homestay to know a real English live. I'm living in the middle of Hyde Park and Regent's Park and the zone it's beautiful.

London has a lot of activities to do and I'm really enjoying the city. I went to Lion King and Mamma Mia musicals and both are an excellent quality and, of course I visited the Big Ben, Buckingham Palace, Tower of London, Piccadilly Circus, London Bridge, British Museum, etc.

I hope I will be fine in London and learn a lot of English!

See you and have a nice day, blog lector!!
Comments
comments