Name: Ludovica
Age: 23
Nationality: Italian
Mother tongue: Italian
Studies: Business Economics and Industrial Management Sciences
Job at EC London: Academic Intern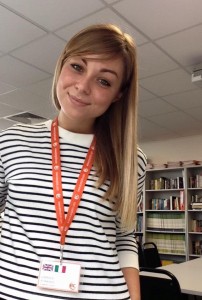 Ludovica is our new Academic Intern for the next two months. We would like to welcome her into our team and hope she will has a great stay in EC London and the city! She studied here for two months at the beginning of this year and for her this is a great opportunity to practice what she has learnt. Let's find out more about her and her experience as a student attending the IELTS preparation course.
Hobbies:
"I like sailing since I was a child. My other hobbies are sightseeing and reading."
Favourite place in London:
"Undoubtedly my favourite place in London is Primrose Hill. I often go to Shoreditch during the weekend to have a drink with friends. It is an area always full of energy and people."
Favourite food/movie/whatever:
"As a typical Italian, I love pizza (but sushi as well)."
Future plans:
"I graduated in Business Economics and Industrial Management Sciences last year and I want to pursue my further studies here in London. I have applied for a Master of Law in Energy and Regulation."
Your experience with EC London as a student:
"I attended an IELTS preparation course for two months. It was definitely one of the best experiences in my life. Not only did I improve my English skills but I also met a lot of new people from all over the world. The teachers are really competent and able to help you at every moment. Thanks to them I passed my IELTS exam with a really good score. In conclusion, I suggest EC London to all the people who are looking for something more than a simple school."
Comments
comments