Cesar has been one of the best student ambassador that EC London has ever had.
He came here at the beginning of April and he followed our General English course and our Intensive English course for six months.
We are really happy that he would like to share on our blog his personal opinion about the school and experience! We already miss him and his energy so much!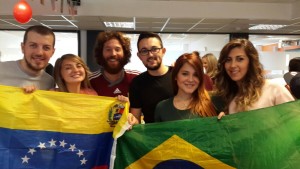 I have been in EC London 6 months. London is the centre of the world, is a place with rich history, where you can find and gather with different people and cultures, where different of them can coexist. It is impossible to be bored in London, there is always something to do.
The staff of the school  since the beginning received me with their kindness and friendly behavior, the teachers who taught me are professionals, trained and high-level. I believe in people and in the school I found a family.

I had the opportunity to be a student ambassador and I really appreciate every moment as an ambassador.

Since I came to London I have always said this "here the time is so fast, is faster than in Venezuela (my country), I need two days to do all I have to do" although this happens always I have time for hang out with my friends and enjoy the city, my favourite place for hang out in the evenings is Shoreditch, there the atmosphere is always animated, and I like to being surrounded with all this street art, I recommend do not stay at home because always you can enjoy in your own way the diversity of the city.
Normaly the Sundays are lazy days but London offers many sports and cultural activities, the best things to do in this city on Sunday afternoon are go to some sport activity or museum and hang out with some friends and have a picnic in a nice park.
My experience with Ec was totally POSITIVE, I feel very lucky and grateful to have met, learn and share with such good people.

I would come back to EC London because is my house and I feel very happy and comfortable.

This chapter has come to an end, but is time to continue.

Thanks for all the energy and for being part of this beautiful Chapter, Always in my mind and heart. With tons of love.

Cesar Gabriel Rodriguez Goncalves.
Comments
comments