Alina comes from Lithuania. She came to learn English in England at our school in London for two weeks during the months of October and November following the intensive English programme. We are so happy that she would like to share her experience with us.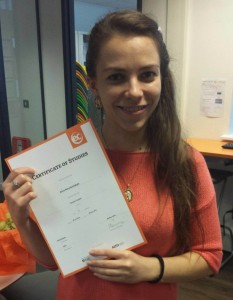 I choose EC because I saw an interest statistic that there usually study other natinalities than I am. Because I want talk only in English. The school location is important too and lessons what school gives also.

Teachers are like actors. They can easelly explain and give good examples. I like when teachers can see mistakes and correct them in time.

For me this was a good experience to talk with students who are rom different nationalities than my. I would reccomend EC because it good experience to meet good friends.
Comments
comments