This week Nathalie joined EC English school in London as our new Academic Intern. We would like to welcome her into our team and hope she will have a nice experience. Please stop by and say hello – you can find her in the Library. Let's find out more about Nathalie and her hobbies.
Name: Nathalie Tilly
Age: 18
Nationality: Swedish
Family: Mother, father and a little brother.
Job at EC English school in London: Academic Intern
Mother tongue: Swedish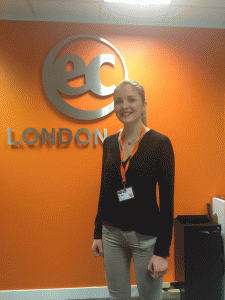 Do you speak any other languages:
I also speak English and some Spanish.
How long are you going to stay at EC?
For 2 months. My internship period will finish February 19th.
What are your hobbies?
My hobbies are travelling and photographing. I like Asian and American culture, I travelled by train around Europe and I've also been to Thailand, China and Turkey. My favourite city I have visited is New York. I prefer active and adventurous holidays, my favourite activity during my break is skiing.

I would love to visit New Zealand and Australia.

The motives I like photograph are moments from everyday life and landscapes. I think London will offer me a lot of opportunities to take great pictures.
What is your first impression of London?
I just arrived last Saturday and my first impression is that London is a very big city with many people comparing with Gothenburg, in Sweden, where I live. I'm looking forward to have more experience abroad, meet new people and see all the attractions. The British accent appeals to me.
Why EC English school in London?
I study at Hvitfeldtska Upper Secondary School, at The Economics and Management programme, which is a programme that offers Erasmus internships. The point of the internship is to get a better insight into working life and other European countries, while practising my theoretical knowledge and English skills. I am one of the students who have the opportunity to have my internship abroad and EC is one of the companies my school is collaborating with.
Do you have any future plans?
After I have finished High School I would like to travel for a year and then I want to study Economics at a University somewhere in the world.
Comments
comments