Klaudia Dodes comes from Switzerland and she studied at EC London for a month. During her stay she meet many new friends and made new memories. She shared with us why she chose this English school in the UK and gave us some suggestions where to hang out in the evenings and where to go on a Sunday afternoon.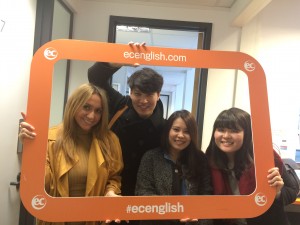 I choose to study with EC, because I heard about this school from many friends, and also my language school recommended this school and they work with EC.

What I like the most about London is the fact that here are many different cultures, people in one place, I also like sightseeing – there is so many different things to see.

The school is really nice: teachers are really good, very nice people in reception and I like the social programme.

My most unforgettable memory of EC is my class. I had a very good time with my class, we could learn but also laugh.

I would definitely recommend EC to a friend, because teachers are food, the place (Euston) is perfect, the food is good. They also have Starbucks coffee in the school. Everything is really organized here.

My favourite place to hang out in the evenings is Camden town. You have different people and a lot of places like bars and pubs. The best thing to do on a Sunday afternoon is to go with friends out to Westminster or Madison Rooftop bar to drink something and have a beautiful view of the city.
If you are thinking of joining English school in the UK you don't have to look any further, have a look at our EC London website for more information.
Comments
comments