Gessica Francine Da Rosa comes from Brazil and she joined EC Homestay London English Courses in January. With Homestay London English Courses programme she had General English lessons in the school, where she worked on all areas of her language skills so she improved her overall knowledge of the language and she stayed with a British family, where she could continue speaking in English in the evenings and practice her listening and speaking skills.
Here is what she shared with us about her EC London experience.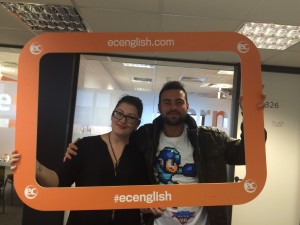 Why did you choose to study with EC?
My agent's chosen the school for me and I could enjoy the best experience by EC school. It was a good choice!
What do you like about London? What do you like about the school?
I like the historical potential of the city, the politeness of the people, even the weather. EC School has a perfect space for learning and sharing knowledge and make new friends.
What will be your most unforgettable memory of EC?
I'll never forget the great interaction with my highly skilled teachers (Jules and Jonathan) and the multi-nationalities friends I've dine!
Would you recommend EC to a friend? Why?
Off course I would recommend because it'a a very competent school and I had a nice experience.
Where is your favourite place to hang out in the evenings? What is the best thing to do on a Sunday afternoon?
I love hanging out at some pubs in the evening, specially in Camden Town and I think that spend a Sunday afternoon in a museum or any historical place is great deal!
If you are interested in Homestay London English Courses programme you don't to have look any further.
Comments
comments