Daniel comes from Brazil and he decided that he wants to have an active holidays and improve his English. He was in one of our English Courses in London and here is what he would like to share about his experience.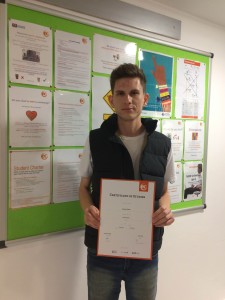 Why did you choose to study with EC?
In Brazil, when I decided using my holidays of work and the college to study English, my agency recommended me this school, and by searching the internet I found good reviews about the "EC". So I decided to study here and I'm sure it was a great choice!
What do you like about London? What do you like about the school?
I liked everything.. People, places, squares, museums. I feel in love with London!

About the school, I really liked the living rooms, because in there I could make any friends from all over the world!
What will be your most unforgettable memory of EC?
Surely I will never forget the living room with colourful chairs, where I could meet people from all over the world.
Would you recommend EC to a friend? Why?
Yes, yes and yes! The EC School is really cool! The classes were interactive, dynamic and fun. The teachers, colleagues, the attendance.. Was really liked.
Where is your favourite place to hang out in the evenings? What is the best thing to do on a Sunday afternoon?
In the evening, London is magic.. For me, the best thing to do at night was to walk and see the city and the lights or go to a pub or ballad to meet new people!
In the Sunday, the best thing to me was the museums and squares! In London everything is fantastic! There is no bad program at least not for me.
Find out more about English Courses in London.
Comments
comments