Nazli Gonca Tosun is from Turkey and she came to London in September to do an Academic English Course. Here is what she would like to share about her experience, what does she think about London and EC London, where is her favourite place to hang out in the evenings and on a Sunday afternoon.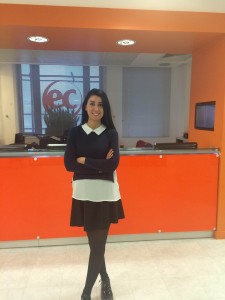 Why did you choose to study with EC?
I chose to study in EC, because first my agency found this course form and then I searched on EC's website, and looked into some useful comments about qualified of teachers. I thought studying here will be the best choice for me.
What do you like about London? What do you like about the school?
I can say everything! These are many options to spend really enjoyable time in London. Location of the school is very close every famous street where you want to go. You can visit a lot of attractions here like the London Eye, the National History Museum.
What will be your most unforgettable memory of EC?
I've come across so many lovely friends who are now good friends. As for my teachers, you are more than just teachers for me. Also EC has friendly atmosphere.
Would you recommend EC to a friend? Why?
Yes, of course! If you want to learn English very well and meet wonderful people in London, EC will be the right address for you.
Where is your favourite place to hang out in the evenings? What is the best thing to do on a Sunday afternoon?
I know lots of fantastic places to get together with my friends. One of these is Shoreditch which involves street arts and different style of pubs. On Sunday afternoon I prefer to unwind in the Green Park if weather is sunny and go to the British library and do some homework.
EC offers many different English Courses, including Academic English Course.
Comments
comments