Teddy Cachove from Portugal joined EC English school in London in January 2016 and stayed with us for 7 weeks. He told us why he chose EC English school in London,  what he likes about London and about the school, he also shared his most unforgettable memory of EC, why he would recommend EC London to a friend and in the end Teddy gave us some tips what to do in the evenings and on Sunday afternoon.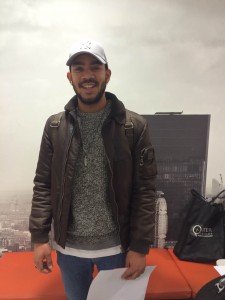 Why did you choose to study with EC?
Last summer I was looking for an English school in London to improve my English. So I spoke with a friend, who studied at EC London last year and she told me EC London is very good to learn and to improve English skills. Because my friend recommend this school I chose EC London.
What do you like about London? What do you like about the school?
London is one of the best places to live and to spend really good times. Is a multi-cultural country with different places. I really love this place. And this school is well locate, the conditions are amazing, different activities every week, best pace to meet new people.
What will be your most unforgettable memory of EC?
I will remember every day, the classes, because are so different related with Portugal. I love the way how the teachers explain all the subjects.
Would you recommend EC to a friend? Why would you recommend it?
Yes of course. if you want to improve your English skills this is the best place to do it.
Where is your favourite place to hang out in the evenings? What is the best thing to do on a Sunday afternoon?
To hang out in the evenings, pubs are the best ones. Sunday afternoon is always good idea to do sightseeing.
Please check out website for more information about EC English school in London.
Comments
comments