For all the Harry Potter fans who come to study at one of the EC English school in the UK this trip is an amazing opportunity to step into the world of magic. It's organized by Lost in London and you can find it on our social programme every Saturday. The trip consist of two parts: Warner Bros. Studio, where they can have a closer look at how they filmed all of the 8 films about Harry Potter and guided tour of Oxford.
The tour starts at 9 am in central London, near the school, where you meet your tour manager and take a short one hour drive to Watford. Warner Bros. Studio is a truly unique attraction which allows you to peek into the magic of creating the most successful film series of all time. In your four hours visit you will see all the most iconic sets including Great Hall, Professor Dumbledore's office, Hagrid's hut, Potions classroom and much more.
You start your visit in the Great Hall, one of Hogwarts Castle's most recognizable locations and have a close look at the Sorting Hat. Explore and take as many pictures as you like of Gryffindor common room, stunning Potions classroom, interesting Hagrid's hut and amazing Professor Dumbledore's office.
Follow in the footsteps of Hogwarts' students as you walk around original set of Platform 9 ¾, complete with the Hogwarts Express steam engine. Stroll along the famous cobblestoned pavements of Diagon Alley, and look out for familiar-looking shops like Weasleys' Wizard Wheezes, Ollivanders wand shop and much more.
In the backlot you will see exterior sets including Privet Drive and cross the Hogwarts Bridge and take a seat on the Knight Bus.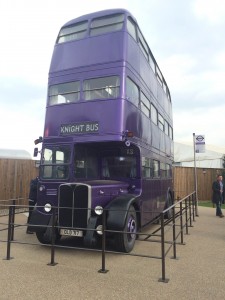 And that's not all you will also discover behind-the-scenes secrets and learn how intricate prosthetics and make up transformed actors into creatures. Learn how creatures were brought to life with green screen effects, animatronics and life-sized models showcases a huge array of beautiful sets, costumes and props. It also reveals some closely guarded secrets, including facts about the special effects and animatronics that made these films so hugely popular all over the world.
You can even try the famous Butter Beer, fly on a broomstick or buy yourself your own wand. Your tour around the studio will end with a stunning view of Hogwarts Castle model.
In the second part of your trip you will visit Oxford, famous University city, which was founded in 1167, Oxford is England's oldest university. Will have a professionally guided walking tour of the famous college buildings, amongst cloisters and quadrangles, along the back streets and into chapels and dining halls and across cobblestone squares standing in the shadows of the famous 'dreaming spires'. After the tour you will have free time to explore the city by yourself. The coach will drop of in London at around 7 pm.
Comments
comments