Nayely Esparza Gopar, a lovely student from Mexico, would like to share with us her thoughts about her first day at EC London. As a part of the first day experience all new EC London English Students go on a local tour around the school and get familiar with the area. As you can see form the pictures below Nayely had a great time and already made new friendships.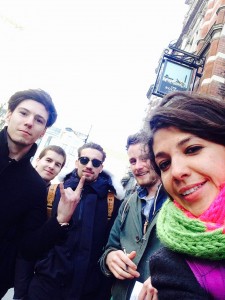 Hello! My name is Nayely and my classmates Dominique, Alberto and Marco, we went to St. Pancras Station. We just want to share our first experience in London with you.

Nayely exploring St Pancras station

My first day in London was more fun and interesting that I expected.  All the great diversity of people and cultures make a friendly, welcome and happy environment. I chose EC London to improve my English just for a simple reason: EC is more than a school… is a friendly community where learn English becomes a unique experience sharing with everyone ideas and culture. Furthermore is a place where you find friends.

Nayely
If you would like to learn English at EC London, please look at English courses available on our website or continue reading testimonials from our EC London English Students.
Comments
comments