I was lucky enough to take a trip to Japan recently, along with a friend. We planned to travel there in early January and between us we had lots of ideas for things to do. The only problem being that we wanted to go to different places all over the country including Tokyo, the mountains in the north, and the cities in the south. After a quick search online I discovered that this was feasible if we purchased a Japan Rail Pass, essentially a travel card for tourists allowing for travel on Japan's famous bullet trains. I quite like travelling by train so we decided to buy the pass (which at about £220 is not financially out of reach) and we got down to planning our itinerary. To start with we would visit Tokyo, then travel to the mountains in Niigata prefecture for a spot of snowboarding, followed by a visit to Japan's southern mega-city; Osaka. I remembered that one of my students had come from Osaka and he'd invited me to visit him there many times. I got in touch with him and he was over the moon about my trip, insisting that I meet him so he could show me the sights and sounds of his city.
We landed bright and early to a fresh, sunny Tokyo morning. I was surprised to find that it wasn't very cold. In fact it was warmer than London and more importantly, the sun was shining! The first thing that struck me about Japan is how clean and organised everything is. My first trip to the bathroom almost left me spellbound, no rubbish, no mess, not even a hint of graffiti. I was impressed from the off! Our first few days were spent in Tokyo where we visited famous landmarks such as the immensely tall Tokyo Skytree, Ueno Zoo and the gorgeous Yoyogi Park. I soon discovered that one of the most delightful things about Tokyo is that you're never more than 5 minutes from a restaurant or diner serving cheap, delicious Japanese food. We ate out about 4 times a day, simply because it was so good and affordable at the same time. Some of my favourite Japanese cuisines were Tonkotsu and Tempura, try and guess which one's which!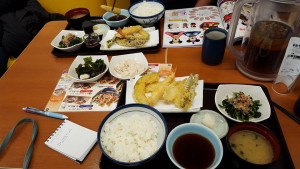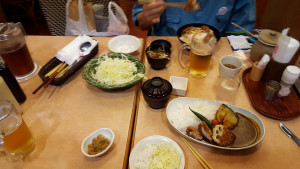 On our last day in Tokyo we decided to do something unexpected and opted to go to the DisneySea theme park. If you're wondering what DisneySea is, it's an even funner version of Disneyland and I have to admit, I've never had such a fun day out. I would definitely go back to Japan just so I could go to DisneySea again. It's a marvellous theme park where each land has a nautical theme. There are of course lots of rides to go on, but my favourite part was just strolling around taking in the atmosphere and meeting the park staff.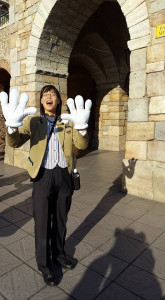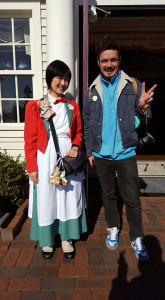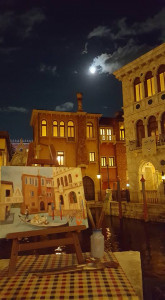 Japan's friendliness is only matched by it's beauty, and after we left the bright lights of Tokyo we boarded the bullet train (called 'shinkansen' in Japan) bound for the snowy mountains to the north. Everyone in Japan grabs a box of delicious food before they board the train, and there's always a wonderful selection available at the train stations. We came to look forward to this ourselves, and so here's a picture of my bullet train essentials; food, beer and a fresh pair of socks!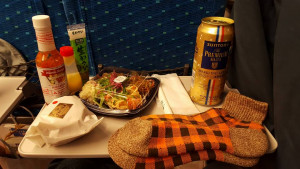 Japan's mountain's are guaranteed regular snowfall each winter and there are several large resorts to choose from. We chose to visit a town called Ishiuchi which although small, offers several excellent ski areas. As an amateur, I was quite worried about snowboarding, but after a couple of days I got the hang of it and on the third day I was riding the ski lift all the way to the top of the mountain to not only snowboard, but to enjoy the absolutely breathtaking scenery.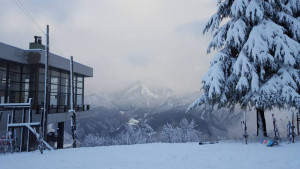 Completely knackered from 4 days snowboarding in the chilly mountains, we boarded another bullet train to the south, to see my student who had promised to show me the sights and sounds of Osaka. Watching the scenery change from icing sugar dusted mountains, to thick green forests, I was struck by how varied a land Japan is. There are so many places to go and so many things to see, you could almost spend a year travelling the country. Osaka in the south is a famous port city and is noted for it's cuisine, Okonomiyaki and Kushi Katsu being particularly delicious. I was expecting to savour these culinary delights in Osaka, but my student had different ideas! He lead us through the busy narrow lanes of the city centre to a traditional Japanese restaurant. We were served by a Japanese woman wearing a kimono and enjoyed a tasting menu of sushi, beef, soups and interesting Japanese deserts. I was completely overwhelmed by my old students hospitality, and the hospitality and friendliness of the Japanese people in general. Thank you Seiho!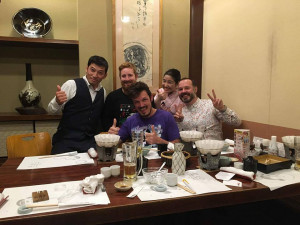 On our last day in Osaka we again decided to have a bit of silly fun, and made a spur of the moment decision to visit Universal Studios, seeing as we'd had so much fun at DisneySea. It was a rainy day that day, but that didn't put a damper on our spirits. Universal was a really fun day out and like most things in Japan, I strongly recommend it! Just be prepared to queue and make sure you take plenty of spending money, because you'll want to buy everything! But I'd have to say my favourite thing that I spent money on that day was a meal in the Jurassic Park restaurant….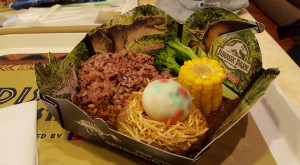 NB. not a real dinosaur egg on a plate 😉
By this time our trip was drawing to a close, and I was slowly becoming quite sad that we'd be leaving behind this land of smiling faces, friendly waves, delicious food and fantastic places to visit. There are so many more things to tell you about Japan, like the hot spas called 'onsens', the capsule hotels (which we stayed at on a couple of nights), the small cosy bars and eclectic night life, I could go on and on. But I don't want to spoil it for you, and in truth, you should really experience Japan yourself, it's bound to be an experience you'll never forget!
Teacher Alex
If you are thinking about studying English in London, have a look at the courses we offer on our website.
Comments
comments