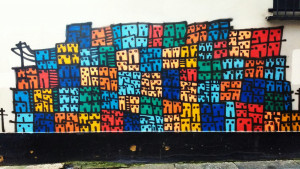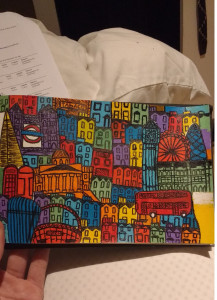 At EC London, we take pride in our wall decorations. We have some wonderful London designs and landscapes, and we were a little nervous when Daniel, our Assistant Director of Studies, proposed that one of his students do a full-size graffiti wall in our main student lounge.
Luckily, that student was Luis Ignacio Bottaro Paez Pumar, from Venezuela, who has been having a great EC experience staying with a London homestay and studying towards his CPE course. Luis started his research in January into the skyline and architecture of London, and in no time at all came up with a proposal for his design. A few minor adjustments were made, and Luis came in last weekend, and spray painted our beloved student lounge wall.
Needless the say, the results are stunning. The design features London landmarks, features of the Skyline, the Shard, Wembley Stadium, the British Museum, Camden Market, the Walkie-Talkie Tower, the Tower Bridge, and the brightly coloured London townhouses and blocks have brightened up the whole room. We have had amazing feedback from students, staff and even some of our VIP visitors who come through the school.
Luis – you have made a great piece of art and you have left a wonderful legacy on EC London: it will be enjoyed and admired for many, many years to come. Thank you!!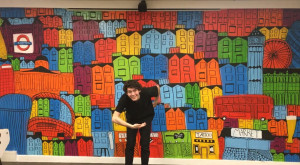 If you would like to study English at EC London, please get in contact with us at london@ecenglish.com for more information or have a look at some of the English Courses we offer. We offer a wide range of courses to suit your needs, from General English to Special Focus classes to exam classes like Cambridge and IELTS.
At EC London we also offer a great range of accommodation, including homestays, residences and student houses. Check out our range of accommodation at EC London.
Comments
comments