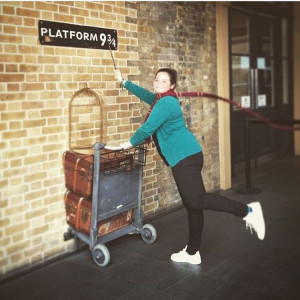 Today we want to say goodbye to our lovely long term student Julie from France, who just have finished a 6 month course here at EC.
She was in the General & Intensive class for  3 months and then spend another 3 months in the Cambridge Exam Preparation class.
She would love to share her opinion about EC with us.
I've chosen to study at EC because I'm studying Marketing and I need to get good skills in English for my further career.
London is one of the best cities I've ever been! Different areas with different ambiances, you must find your place where you feel perfectly aware.
I will never forget my 10 weeks in the Cambridge Exam Preparation class FCE (First Certificate in English)!  After 10 weeks we have created a real friendship with my classmates, I'm going to miss them, really!
You meet people in EC from everywhere it's funny to faced all the stereotypes you had before and discover about new cultures!!
I would recommend EC to my friends for sure, if they have enough money 🙂 😀 because it's London.
Nevertheless, this school is efficient. There are a lot facilities available and everyone is friendly for example the teachers, the reception, the women's in the cafeteria and also the security in the ground floor.
Moreover, the school is perfectly situated in Euston, you really are in the centre of London!
My favourite place in London is "The Big Chill House" in King Cross followed by an Indian restaurant in Angel which calls "Indian Veg" (Its only 7,50 £ for a self-service buffet) and after the restaurant you can enjoy the rest of your night in "The Fabric" (forget about the ZOOBAR)!
Sunday afternoon you can eat something in Camden Market (you have so many choices there) or have a coffee in Covet Garden and after that you can go to the cinema or Tate Modern.
Thanks for sharing your thoughts with us Julie.
You will be sorely missed and were a good friend who brought a smile to everybody faces. 🙂
We wish you all the best in your life and we really hope to see you again!
Comments
comments