Last Friday we celebrated at Reception the National Tea Day with all our students from EC London and EC London 30+. National Tea Day is observed in the UK every year on 21st April to celebrate the drinking of tea.
Free tea during the day and a choice of eight different tastes to try.
Cranberry and Raspberry, Mango and Strawberry, Blackcurrant and Blueberry, St. Clements. Double Mint,  Peppermint, Liquorice, Butter Mint.
Everyone, included all the coffee lovers, were involved and we prepared more than 80 cups of tea!
The slogan that we use was "Life is like a cup of tea. To be filled with the brim and enjoyed with friends"!
Here our table ready for the event!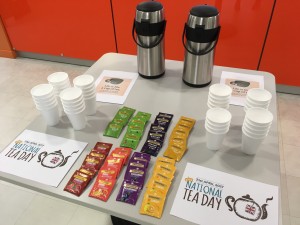 Thank you for joining our National Tea Day event! We are planning to do something similar every month, let us know if you have any idea!
If you would like to learn English in London and stay in our fantastic accommodation, please have a look our our London Homestay option.
Comments
comments