Matteo is back! Matteo was with us last Summer as an academic intern and he is now back as a Student Services Intern for the next three months!
You can find him in Reception and he will be more than happy to help you if you have any questions about Business English courses in London, you need to print out your documents or you need a student letter.
Let's find more about him and his experience has an Intern in EC London.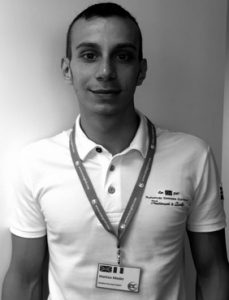 Name: Matteo
Nationality: Italian
Mother tongue: Italian
Studies: High School qualification in Scientific Studies
Home: In Italy I live in Rome while here I'm currently living in London.
Job at EC English School: Student Services Intern
How long are you going to stay at EC? Until September
Other languages: English, a bit of Spanish
Hobbies: Basketball, sports in general, motors and traveling.
Family: In my family we are four. I have an older sister who's currently studying Medicine in Italy. My parents are both employees, but they are working in different companies now.
Studies and future plans: On October I am going to attend Mechanical Engineering  in Italy, while keeping studying English.
Favourite food: Pasta (of course).
Favourite place in London: Primrose Hill, this place offers a breathtaking sunset to see with your friends.
What is your favourite serie? I am a huge fan of Breaking Bad, but within the years I have been watching dozens of tv series. Netflix destroyed my social life.
What is your first impression of London? No words can express my feelings for London. The atmosphere and the mix of cultures makes of London a unique city in the world.
Why did you choose London? Nowadays London is one of the most influential cities in the world, so it offers many opportunity such as making friend from all over the world and finding a good future path.
Comments
comments