Diego came all the way here from Paraguay to spend 4 weeks joining our IELTS exam preparation in London.
He had a very good time and he wants to share his experience with us!
Here you go: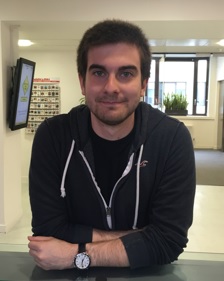 I chose EC because it had all the course plus acommodation summed upp with only a click away. Very fast answers to initial e-mails that showed a lot of responsability.
I like everything about London. The city is very clean and organized, good public transportation system and people is great. You will always find a good person wherever you go.
Awesome sightseen places and art work. Is a great city to have a wonderful time. Going out with friends made at EC, havinggreat and fun classes (not the usual boring one) and beinga great place.
The detailed memory would be one of the firt classes a very fun and interactive class with great teachers and classes.
Yes, every aspect of he EC experience at London is great.
The institution is fantastic and the city is awesome. Nobody can regret coming here.
The best place is "All bar one" bar, or the "Rocket bar". Before or after seeing a incredible place around London for Sundays the best to go is to go for a towr and then have a good time with friends.
Thank you Diego for your great testimonial! We all hope to see you and Mateo back here again soon!
Comments
comments