London is a great place for vegetarians to find delicious foods.
Every restaurant, pub and café caters for vegetarians, so you can always eat a proper meal, wherever you go (veggie burgers in pubs are awesome!).
However, some restaurants are vegetarian only and are a must-try, for vegetarians and non-vegetarians!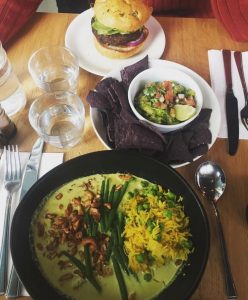 A few of my favourite restaurants:
222 Veggie Vegan has a vegan menu only, with a variety of dishes from seitan stroganoff to nut roast and delicious desserts like vegan chocolate cake with ice cream. Located in West Brompton, it is a bit outside of central London but definitely worth a visit.
The Gate has three different branches so you can choose which is more suitable for you. It caters for vegetarians and vegans and their banoffee dessert is the best thing in the world. Quite a fancy restaurant, it is ideal for special occasions.
Mildreds has to be one of the best restaurants in London! With several branches around London (there is one 10min walking from EC London!), it is always crowded as they do not accept bookings. The curry is brilliant, the corn chips with guac are amazing and the burgers are even better. It really is hard to decide what to order!
Fed by Water is an Italian vegan restaurant that serves the most amazing bread basket – the basket is actually made of bread! The pasta is delicious and I am sure the pizza is as good – but it will have to wait until my next visit.
On my to try list: Vanilla Black – an elegant vegetarian restaurant, ideal for special occasions; and Manna – a small restaurant in Primrose Hill. And a few others that are very good as well: Sagar – Indian, Tibits – different cuisines, Itadakizen – Japanese and walking distance from EC London.
So if you are a vegetarian or vegan, don't ever worry about finding meals and snacks around the city! If you're not, you should also not miss the chance to try these restaurants 😊
A special thank you to our amazing accommodation coordinator Filipa for this review! We love her!
Comments
comments