Elanur is definitely the most positive girl that we've met.
She and her 'adventure' stories brought everyone at school so much fun!
As an under age student she lived in our home-stay while she was studying, read more about London homestay English Courses.
I'd say life would be always beautiful, if everyone has such positive attitude as her.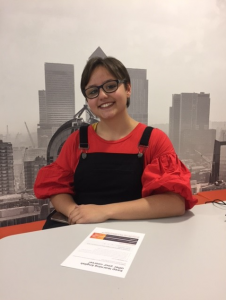 Let's see what she says about studying here:
My lovely English teacher suggested this school and when I searched about it, the comments that the other students had done about their experiences at EC London, made me excited about the school.
Both the school and London are great places to spend time, learn English and meet new friends.
One of my most unforgettable memory of EC is: one day, I was explaining about one of my loss stories and then Suzie started to clap for me.
Then the other members of EC Family heard the sound of the clapping, they joined her.
It was fun that people were clapping for me for being lost 🙂
I will definitely recommend EC to my friends. 4 really teachers that there is no end in learning.
Camden Town is my favourite place to hang out.
The best things to do on a Sunday afternoon are shopping and going historical places of London!
Comments
comments