Let's welcome our lovely new intern, JK!
After 2 weeks working with him, we have all been surprised by his efficiency!
We are proud of him and hopefully he will enjoy the time here. 🙂
Let's see what he says about himself: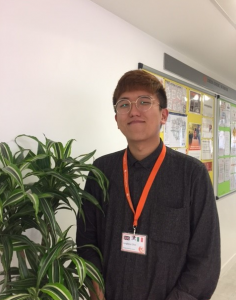 Name: Jungkeun Shin
Nationality: Korean
Mother tongue: Korean
Studies: Italian, in Uni
Home: Seoul in Korea, London in UK.
Job at EC English School: Student Services Intern
How long are you going to stay at EC? Until 22 December
Other languages: English, a bit of Italian
Hobbies: Acoustic Guitar, music and travelling
Family: There are 4 in my family, My younger sister studies in university in Spain and my parents are living next to their farm.
Studies and future plans: I will go to Italy to study just for 2 months because when I had done my military service I forgot almost everything about italian.
Favourite place in London: Tate museum
What is your first impression of London?
I was worried about the weather and the food here, and still. Except these two things, I love everything.
Why did you become an intern?
I was a student for 10 weeks and really enjoyed this school. And I thought internship will help me a lot to improve my english.
Come to talk to him if you would like to know more about London homestay English Courses
Comments
comments