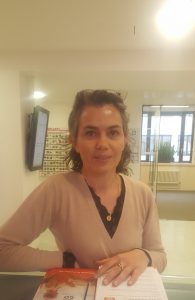 It's a pleasure to know her here and she left her beautiful feedback to us to share:

Why did you choose to study with EC?
I went at EC school in thouch for 2 weeks and decided to come back for one month.
What do you like about London? What do you like about the school?
London is crowdy, diversified and impersonnal!
The staff at EC school is proffesional, receptive and competent.

What will be your most unforgettable memory at EC London?
The private lesson with David about OET!
Would you recommend EC to a friend? Why?
Of course for all I wrote before
Where is your favourite place to hang out in the evenings? What is the best thing to do on a Sunday afternoon?
I don't hang out in the evening but I practiced karate on Saturday and Sunday morning near New Cross Gate station.
If you need more information about IELTS preparation courses in London, please visit EC London Website 🙂
Comments
comments