Hanim is a long term student who chose EC to study English Courses in London for 22 weeks.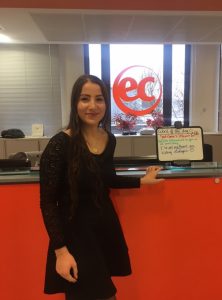 Why did you choose to study in EC?
I decided to go to EC because of the school spirit, the challenging academic atmosphere, and the modern school. I was incredibly impressed by the pride the students feel for their school, and I had read about this before, which was why I chose EC.
What do you like about London? What do you like about EC?
London is really touristic and there are so many activities you can do. Londoners are very open and everyone wants to help you. In the school I always felt very comfortable – there is always something to do and clubs to join, so you never feel alone.
What will be your most unforgettable memory of EC?
The teachers. They support you and they are a team. They are really there to help and their knowledge allows you to make the best decisions about your progress and where to go next.
Would you recommend EC to a friend? Why?
Absolutely, it's a really modern, clean, efficient school. The teachers are friendly and polite and they work in a team. I had an unforgettable experience and I really learned a lot.
Where is your favourite place to hang out in the evenings? What is the best thing to do on a Sunday afternoon?
My favourite places to hang out in the evenings were the pubs in Shoreditch. There are so many great pubs and clubs. For Sunday afternoons, the best thing is to go for a walk in one of the parks.
Comments
comments