Ezgi is a EC LONDON student from Turkey. She wanted to take English Courses in London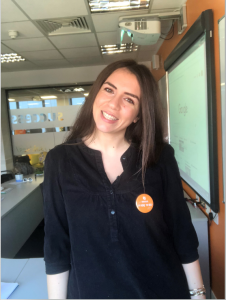 She chose EC LONDON thanks to the good reputation that it has in Turkey, and also for the beautiful position that the school has here in London.
About the school Ezgi thinks that is one of the best school she has ever been in because of the splendid education system and helpful and kind teachers.
Ezgi has a lot of memories about the time she spent in the school, one of them is having been an ambassador:
Her most enjoyable moment is every Monday afternoon, where she always meet new students from all the world.
Ezgi with pleasure will recommend the EC London course to a friend because during the time she attended the school, she was able to improve her English and at the same time had fun.
About hanging out in the evenings, she thinks that Camden town is one of the best place, and about Sunday afternoon she believes that the best place to go is KOKO.
We are greatful for the positive feedback that Ezgi gave to us and feel glad that she had a great time here :).
Comments
comments