Takato is an EC LONDON student from Japan. He wanted to take English Courses in London.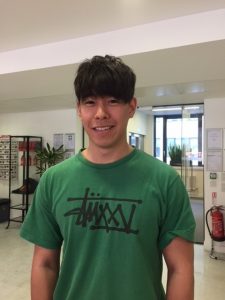 It was a pleasure to meet him. He left his beautiful feedback to us to share:
Why did you choose to study with EC?
I chose here randomly and followed my instinct
What do you like about London? What do you like about the school?
People are tolerant. I like the combination of historical places and urban city.
I like the atmosphere in the school and also teachers and staff.
What will be your most unforgattable memory of EC?
It must be meeting lots of great people. I spent unforgattable time with my friends. And, amazing teachers, they were always helpful and encourage me.
Would you recommended EC to a friend? Why?
Absolutely Yes! I assure than you can improve your English.
Where is your favorite place to hang out in the evenings? What is the best thing to do on Sunday afternoon?
I'd say wandering around in London is always good. My favorite is Tower Bridge in the evening. St James' Park is the best place to chill out.
We are grateful for the positive feedback that Takato gave to us and feel glad that he had a great time here :).
Comments
comments