In the last few weeks, EC students who are attending English Courses in London had the opportunity to join my Switzerland presentation.
As it was so popular the first time around, staff and students requested it be presented again!
During both presentations I talked about the different languages spoken in my country. It's common for people who had never heard of it before to ask "Could you say something in Swiss?", but since we have four national languages I explain that in Switzerland we speak German, French, Italian and Romanch.
As well as having different languages in our little country we have also different food cultures. I showed them some pictures about: Polenta, Rösti, Raclette, Cheese fondue, Chocolate, Älplermagronen, Meringues, Basler Leckerli, Apfel Strudel, and other delicious food. Rivella and Fizzy are two drinks that you can only find by us.
In my country we have cats, dogs and other usual pets, but among our woods, we have some animals that you can't see everywhere. For example: eagles, deer and the Chamoi, bear as well as wolves Lynx, stoats or frogs, white hares and even marmots!
If you want to visit Switzerland of course you have a lot of travel options. Renting a car and doing the "Ground Tour" is my top tip. You can drive for 1643 km in seven days, if driving around five hours per day. On your trip you'll see 45 of the top destinations including 12 World Heritages Sites (UNESCO) and two biospheres!
The recommended season do to this trip is in Summer, so from April to October. Amazing landscapes will be blow your mind. You'll see 22 lakes and pass over five alpine passes that exceed 2000 meters above sea level. This route, if you prefer, is also possible to do on a panoramic train; it's an electrifying experience!
I showed to the listeners different Landscapes. They could see mountains, lakes, cities, rivers, woods, glaciers and typical houses. I said a few words about our public transport: we don't have an underground service.
Mostly we travel by train, car, bus, tram, boat, bike or cableway. We also travel with motorbikes, but they are not a public transport since they are private transport. Public bikes are an increasingly advanced trend!
At the end I told some curiosities about the foundation of the Switzerland, the temperature and the highest and lowest points.
I really hope that the desire to visit my country has increased by reading this blog. Visit us and you will not be disappointed!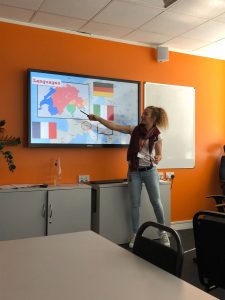 See you soon😊
Lia Pini
Comments
comments