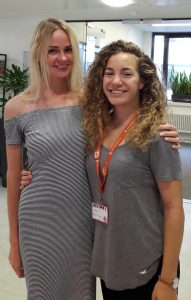 Testimonial from Alisa Rakhubovska
Alisa R. is an Ukrainian student of English Language Schools in London, she studied here for two weeks of her holiday and she was my flatmate by the host family.
She really loves London and the story of Queen Elizabeth II, here below you can read her testimonial.
She heard good feedback about EC English from people in Ukraine, that's the reason why she decided to study with us in London.
In the school she made a lot of friends from different parts of the world. She loved this opportunity from the school, because then she could hang out with them.
Her most unforgettable memory of EC was her first day, namely the approach of all activities, which were conduct in school for newcomers.
For sure she wants to recommend our school. She liked the way of teaching. In fact, she improved her knowledge of English definitely!
Asking where her favourite place is to hang out or the best things to do in London, she answer: "I like spending my time in parks or somewhere outside. In case of bad weather, I will take a drink in a cosy café."
Thank you, Alisa, for your stay and hope you enjoyed it, we wish you all the best, waiting you again here or by another EC School in the world!
Comments
comments