Hi everyone,
My name is Michela, I'm 19 and I come from Cuneo, a small town in the north of Italy.
I graduated last July: I studied languages such as French, Spanish and English at the High School in Cuneo, where I live.
The last year of High School, as you probably know, is a year of big changes: everyone is thinking about what to do the following year, you have to make a lot of decisions.
I was uncertain about what to do next, so I decided to take a gap year. That was surely the best decision I made so far!
What am I doing here and for how long I'm going to stay here? I'm the new Academic Intern, and I'm going to stay here until the end of December. I'm here at EC London since the 6th of October and I'm really enjoying my experience. One of the best way to study English in London is to do an internship, isn't it? EC offers great opportunities to meet people from all over the world, to know their cultures and, of course to learn new interesting things during the challenging classes.
The thing that I like the most about EC school is that you can easily talk with lots of people of your age, as everyone come here with the same purpose: learning English and make some new friends.
I have been asked what my hobbies are: first of all, I really enjoy travelling (that it's one of the reason that brought me here), then I love everything that concerns with arts, for example reading, listening to music, visiting museums, watching lots of movies and tv series. I also quite enjoy having long walks with my headphones on.
The main goal that I would like to achieve here in EC London, it's obviously improving my English; but I would love to go back home with the awareness that I lived 3 months on my own and that I had met people and friends that somehow contributed to enrich my cultural background.
So… This is me! Hope to see you in London
Michela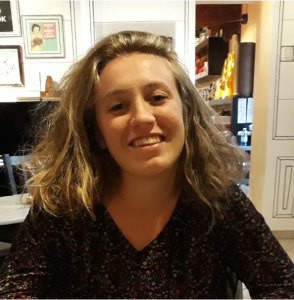 Comments
comments