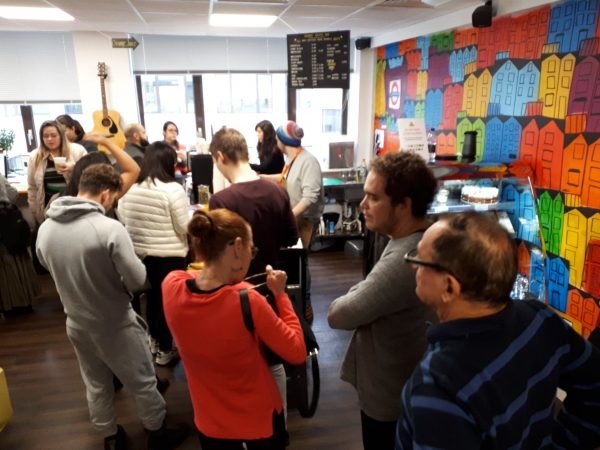 Nowadays, coffee is taken very seriously and people are becoming more and more particular about the coffee that they drink, where it comes from and how it is brewed. In answer to this, the cafe at EC London, Gramos Ltd, uses 'the science of coffee' to perfect the variety of drinks that they serve to the students and staff who work in the building.
Gramos
As a fruit of the earth, coffee, by nature, is a seasonal product. Gramos uses 100% arabica, specialty graded Allpress coffee. In using this particular supplier, throughout the year, the source of the coffee beans varies. This is to ensure consistent flavour all year round. Source countries include, Colombia, Brazil, Guatemala, Indonesia and Ethiopia. As well as coffee from these countries individually, Gramos also tend to use a blend from several.
Gramos' USP is the coffee itself. Therefore, each portion of ground coffee is weighed, pressed and poured to scientific specificity. This ensures the smoothest drink with the best taste. This is a breath of fresh air for those who are used to a more production-line or commercial type of experience.
As well as the coffee that they serve, they also serve fresh food. Home made sandwiches, fruit and sweet treats make up their coffee accompaniments.
One of the main things to note, though is not just the coffee, but the service experience that the baristas provide. Everyone who works at Gramos is a lovely individual and genuinely enjoy what they do. This is testament to the way they are treated and this all comes across in the service.
If you are thinking of doing a Celta course at EC London , coffee may well be your best friend. Click on the link to find out more about the courses we offer and open the door to exciting work opportunities.
Comments
comments