Have you ever listened to ABBA, bought something from IKEA or used Spotify?
Did you know ABBA was a Swedish pop group and the companies IKEA and Spotify were founded in Sweden?
 Even more information were included in the presentation on Sweden!
It was held twice during the previous Thursday, one in the morning and the other in the afternoon.
Delicious Swedish candy such as Marabou milk chocolate and Ahlgrens bilar were provided during the presentation.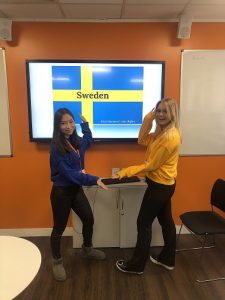 You could not join us? Do not worry! We give a brief summary of the Swedish presentation below.
In general:
Location: Scandinavia, northern Europe.
Companies founded in Sweden: IKEA, H&M, Spotify, Skype and Volvo.
Well known candy: Marabou milk chocolate, Ahlbrens bilar and Djungelvrål, love it!
Dishes: Herring and potatoes with dill and eggs, sandwich cake, crisp bread and falun sausage with macaroni.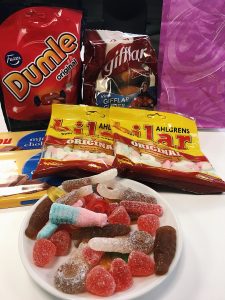 Famous people: 
Zlatan Ibrahimovic – football player. He has played for a several clubs such as Barcelona, Ajax, Swedish national team and much more.
ABBA – pop group. MAMMA MIA, Here I go again! Yes, you are singing one of ABBA's songs!
Zara Larsson – pop singer-songwriter.
Maybe you have listened to Ruin my life, Lush Life or recognise her name from the Top 50 on Spotify?
Avicii – DJ, remix artist and record producer
If you have not, listen to his songs, for instance Wake me up, Without You or Waiting for Love. 
Astrid Lindgren – Writer. One of her famous characters might be more familiar, Pippi Longstocking!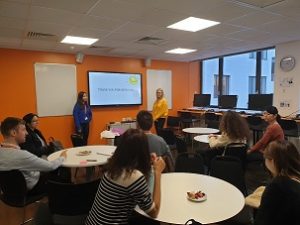 Have great day! Or in Swedish, ha en bra dag!
EC London, Alice
Comments
comments