Hello, My Name is Dorian, I am the new Student Services intern of EC London. I'm 20 years old and I'm French 😊.
I was born in the real countryside of France in the south west.
During my childhood, as every boy I loved playing video games and watching dragon ball (and I still love it ahahaha)
I got a scientific secondary school diploma and then I entered in a business school in Bordeaux (famous French city for the wine in the south west).
I am currently studying international business. I would like to get an MBA to become an export manager or another job related with international business in order to not live in France.
I am interning in EC school because I want to improve my level of English., I'm also meeting a lot of people from all around the world (Chinese, Brazilian, Saudi Arabian, Russian etc…) which is very important for me to know the different mindsets of people to work abroad.
I have been learning English since I'm 12 years old, and last year I got 6.5 at the International English testing system (IELTS) which has allowed me to continue my studies abroad.
Next September I'm going to study in the international business school of Dublin and I will continue my life in Dublin instead of France. I am very excited about it especially that my life will be completely in English.
I love travelling to discover something different, I especially love countries from the east of Europe (Scandinavian and Slavic countries), for example I have been in Norway…
I'm also currently learning Russian for one year. Indeed, my business school is asking us to learn two languages in addition to French and as I mentioned before I like Slavic cultures that's why I chose Russian.
Everyone knows languages are very important if you want to build your life abroad.  I am 100% motivated!
Now my objectives in my current life are to succeed to build my life abroad, to speak a decent English and to get my international degree of course.
As you may noticed I really look forward to leaving France because I'm fed up of my country, I know everything there and I want to discover new things, to speak with foreigners and to build my new life in the country that I will choose. I really love to speak in foreign languages and to meet people from abroad, I find it so interesting.
Last year in 2019 I have already worked for EC Dublin, I was an activity leader and I loved this experience so much, that's why I chose to work again for EC but in London to change the city. This time I am a Student Services intern and it allows me to discover another job experience in EC School.
It is a pleasure for me to be here in EC London 😊
Thank you for reading.
Dorian.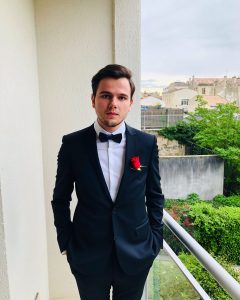 Comments
comments