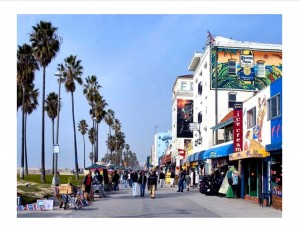 Venice Beach is a must see place around Santa Monica and I really love it there and it is a great place.
The atmosphere is marvelous and you will certainly enjoy your visit. Venice Beach is one of the picturesque places I have ever seen.
It is about 15 minutes ride with the bus and if you have an own car you are even faster. I prefer taking the Big Blue Bus instead of a car. Just take the Bus Nr 1, which takes you all the way up to Venice. I know that eardrop is in some countries not very polite but I can learn a lot by listening to Americans. Learning English at the same time while you are on the bus is fantastic.
From the bus stop is it just a short walk around the corner and when you see big letters above your head that say Venice, than you are there. Your eyes will certainly catch the painted wall by the parking lot in front of you. It is a black-white painting, which shows Venice in his old times. It is huge, great and worth to take a picture of it.
If you are the first time in Venice and you just know Santa Monica, you will be surprise however I was shocked. To see all these little shops follow one by one art sellers where they sell handmade, unique products includes dozen of Tattoo Studios and all kinds of artists for your entertainment gives you the feeling that you entered the door to another world.
I want to share with you my research from my last Venice stay. First, one artist was a homeless man and his products where way different then you would expect. He tried to sell carton signs, what's common for homeless people. Honestly, I didn't buy a sign but I will go again before I start my trip. Another man was an artist and he could walk, jump and do crazy stuff with split glasses. Don't watch to long! After a few minutes it was too painful for me so I had to move on. My advice, never try it at home!
You will meet strange people you don't see often. Some are crazy in a good way like the man on roller blades playing on his e-guitar right next to me while I was on the phone. It was quit funny. At the Beach there is an open-muscle gym where you have to stop by to get a great view and I don't mean the ocean.
My suggestion, If you think you have not a big yard at home than check out the smallest Yard in the whole world, make a picture and send it back home.
Finding a good restaurant is really easy but I prefer more my one Dollar Hot Dog which is delicious – ok, the bread is awful but with enough ketchup you will love it just like me and if you are still hungry so take another one or do it like me, order 2 Hot Dogs as a starter.
I talked now about many things here in Venice Beach but not about the Beach.
Lying on the beach after your two Hot Dogs helps you to come down and relax.
My favorite place in Venice Beach is by the cliffs. To see how the waves get smashed is an awesome experience and it is a great location to take many pictures. Don't climb on the rocks, I know there are people who are crazy enough but I would not recommend it even for a good picture.
Right behind Venice Beach, there is a place that looks like you are in Venice Italy. There are small bridges, the river and many friendly Americans who live there. This area is actually private but if you respect those they welcome you.
You heard now a lot and if you still want to go there what I fully recommend, just come and let me know. You can join also one of our Activities where we go all together to Venice Beach and one will be soon.
Comments
comments