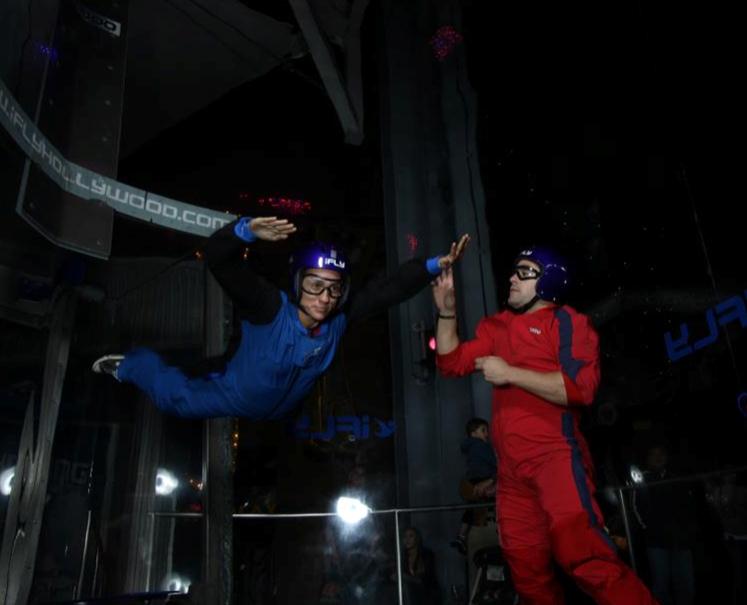 Have you ever wondered what it would be like to fly? This Thursday, some of the staff and students are making the trip up to Universal Studios CityWalk Hollywood to find out!
iFLY Hollywood is the complete indoor skydiving experience. The vertical wind tunnel simulates a complete free fall – the closest sensation to real human flight possible. The wind speeds can be adjusted to make your flight as mild or as exhilarating as you can handle! But if it sounds intimidating, have no fear, the iFLY Hollywood team is here. Along with a 15 minute orientation session before the flight, the professional instructors are highly trained and with you during the entire flight.
Here at EC Los Angeles, new flyers have an added bonus: an indoor skydiving veteran! The Academic Director, Shawn Whelan has been a flyer for almost a year. She is a self-professed flying-addict, and her experience shows. With nothing below her but flowing air, she can do turns & flips, and control how high she goes. This is what she had to say about flying:
"iFly is an amazing experience and for some people a- once- in- a- lifetime! It is difficult to describe the feeling of being suspended in mid-air but it's exhilarating and calming all at the same time!  When your feet touch the Earth once again, you will never be the same!"
Some Tips for Flying:
Pay attention during the orientation and ask for help!
Wear well-fitting, lace-up sneakers, or running shoes.
Have fun!
All you have to bring with you is a "smile because this will be the most exciting thing you have ever accomplished," according to iFly. So if you're ever in the mood for an adventure, iFLY at Universal CityWalk is the place for you!
For more information, visit the iFLY Hollywood website here.
Comments
comments