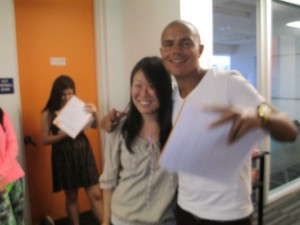 Hey New Student!
Welcome to EC Los Angeles! The BEST place to study in the world, you know why? Let me introduce you to the school and this amazing city. About me, I arrived 2 months ago from Paris and this experience changed my life!
Firstly the school is very welcoming; it's the best place to study. The classrooms are so nice, the teachers are the best and you can meet a lot of people from everywhere and share your life and experiences. The classes help you to improve your English, but you have to also put into practice what you learn at school after class.
When you finish your class you can do some very interesting activities. You can test each of the fast food present here. You can visit Los Angeles and its different tourist places like Beverly Hills, Hollywood, Santa Monica, etc.
If you have some time you can take a trip to Vegas, San Francisco or San Diego by renting a car and discover another big city.
So enjoy your trip, don't be shy and the most important point: don't speak your language! Only English here and sun every day! California dreaming: that's your new life, enjoy it!
Comments
comments