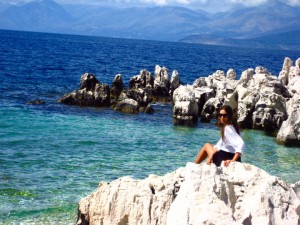 I was born 110 miles outside of Los Angeles in an almost country/almost desert city called Bakersfield. However, I was quick to leave it to start up a life in Los Angeles via UCLA. After graduating in 2009 with a BA in Psychology, I chose to celebrate with a two-month long vacation to Italy, one that ultimately ended up lasting two years. In my time there, I explored the Amalfi coast, a coastline that I had been traveling to and loving since I was a child, improved upon my Italian, and dabbled in teaching English to Italians.
Now back in LA, to which I have become practically a native, I am also back studying at UCLA, however business this time.  Alongside, I am fortunate to be here at EC teaching English to International students.
EC's methodology is distinct from other competing schools. Here, the students are taught more than just the knowledge of grammar structures and vocabulary but also, American humor, colloquial expressions that cannot necessarily be translated, and the means by which to navigate across linguistic boundaries. The result is that EC students do not graduate simply feeling more confident in their English abilities; they graduate feeling more fluent in American culture. And in my opinion, what more could ESL students want from a traveling experience abroad in Los Angeles?
Comments
comments