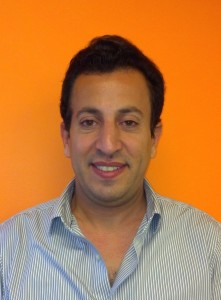 John Boktor was born and raised in the land of Cleopatra, and Alexander the Great! Yes, it is Cairo, Egypt, one of the most crowded yet rich cities in its rich cultural heritage and is considered a meeting place for so many cultures from around the world for so many years. So, Arabic is his first language. He came to the United States as an exchange student in 1997 and studied a master's degree in teaching English. He went to Illinois State University and lived with a host family that opened his eyes to a fascinating world of new traditions, ideas, and ways of thinking. Ever since, He has fallen in love with world cultures: the languages, the food, the customs, the national celebrations, and ways of life and thinking. This passion for cultures led him to study a doctoral program in global education at Walden University.
His teaching career started also in an international context where I taught English to international staff at a hotel. He enjoyed learning about their cultures as he taught them English skills to improve their communication with the guests. He has continued to teach English to international business professionals in language centers and to international students in universities.
He loves travel and meeting new people. He has traveled through North Africa and the Middle East to Morocco and United Arab Emirates. In the United States, He has been to so many places that he lost count: Normal Bloomington, Chicago, New York, New Jersey,  Pennsylvania, Ohio, Indiana, Nebraska, Dallas, and lately Los Angeles. He enjoys sports specially jogging for long distances. He goes jogging for 10 miles on the weekends. His favorite food is steak and green salad!
Of all the places in Los Angeles, he loves Santa Monica. On weekends, he enjoys his jogging routine for about 10 miles that ends at the Santa Monica Pier with a cup of espresso on 3rd street. His favorite place is Urth Caffé- being a coffee junkie – this place offers premium coffee and unparalleled setting. He also loves the hiking trails in Los Angeles.
He has been so lucky to have the opportunity to be on the EC team and to work with every one of you to improve your language fluency. It makes his day for so many days when you have fun while learning new language skills. EC Los Angeles offers a unique learning environment. So maintain your passion for learning English and have fun!
============
You may view EC Los Angeles English teacher profiles here.
Comments
comments