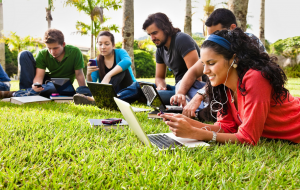 1. Diversity
Los Angeles is the second largest city in the United States and the largest city in the state of California. It is also arguably one of the most diverse cities in the world. We have people from over 140 countries and also have the largest Larin-American and Asian-American populations of any US city. This makes our city an excellent place not only to learn English, but also to meet people from many diverse backgrounds and immerse yourself in cultures from all around the world.
2. Weather
Los Angeles is known for its excellent weather – the yearly temperature averages 9 – 24 degrees Celsius. The temperature rarely goes below 6 degrees, and rarely above 28 degrees. There is also not a lot of precipitation in Los Angeles, making it a very enjoyable city especially for those who like the outdoors. Perhaps this is one of the reasons the people of this city are well known for their cheerful dispositions!
3. Entertainment Capital of the World
Most of the country's major films, television, and music are produced based out of Los Angeles. People from all around the world come here in hopes of breaking into the Hollywood Entertainment industry. As a result of this, there are always a lot of fun activities related to the Entertainment Industry including Universal Studios, the Hollywood Walk of Fame, television show tapings, and opportunities to be extras in films and commercials! Not to mention, we also host the Academy Awards and Golden Globes each year!
4. Arts, Events, and Night Life
Although not as talked about as other cities, Los Angeles also boasts some wonderful museums such as the Getty Center, the Los Angeles County Museum of Art, and the Art Museum of Contemporary Art. In addition, we host a variety of annual events such as the Los Angeles Marathon, Coachella Music Festival (which is just outside of the city), and the US Open Surfing Competition to name a few. There are also many popular nightclubs scattered all over the city and many concerts and comedy shows to attend as well.
5. Our Eclectic Neighborhoods 
There are a number of great neighborhoods worth checking out in Los Angeles. Many of you might have heard of a lot of them. They include Beverly Hills, Malibu Beach, Hollywood, and Santa Monica, Venice Beach to name just a few. Take time to check out each of the neighborhoods and their unique offerings!
6. Excellent Food
Because of the diverse nationalities in our city, we are also able to provide cuisines from all around the world. Some of the popular cuisines to check out here include Mexican food, Thai food, Chinese food, and Indian food. In addition, there are many trendy restaurants and bars where celebrities can often be spotted.
7. World Class Universities
Los Angeles is home to many higher education institutions including UCLA, USC, Pepperdine University, and Loyola Marymount University. There are also a number of Community Colleges in the area which can result to transferring into a 4-year university if that's part of your educational goal!
8. Work Experience Opportunities
For those of you interested in work opportunities while studying, Los Angeles has many company headquarters and many work opportunities for those of you starting out and trying to gain experience. Although Los Angeles is best known for the Entertainment industry, there are many jobs in the Tech, Education, and Medical fields as well!
Study English in Los Angeles with EC English Language Centers!
Comments
comments