Los Angeles is becoming a hot zone when it comes to interesting new food inceptions! Here is THE birth place of many interesting, strange, and very tasty concoctions that maybe considered too unconventional for any normal restaurant kitchen. With the help of the social networking boom, 'street food' seems to be the hottest trend in our bellies. It has long been since the days of the 'roach coach,' a bad name for food trucks as they have shed their image of a cheap and dirty taco vendor you would want to avoid, and is now rather quite a novelty for food enthusiasts. Foods anywhere from gourmet creme brule, authentic Japanese ramen bowls, to Lobster Rolls. Here are a few of LA's best street food:
Kogi Truck – Korean/Mexican Fusion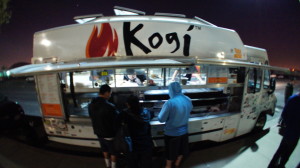 Kogi is THE truck that put food trucks on the map, litterally! Kogi owner, Roy Choi, combines two iconic flavors opposite sides of the world to create the 'Korrito', burritos with a Korean twist. Those familiar with the central Los Angeles area can easily recognize a flavor that is 50% Korean, 50% mexican, 100% LA, and 100% delicious. Follow them on Twitter @kogibbq.
Grill 'Em All – American Burger
Inspired by an era of cult culture films, punk and sleeveless jean jackets, Grill 'Em All takes American cuisine to a heavy metal level. Sticking to the philosophy that BIGGER is BETTER, this burger truck features some of the wildest burgers in the entire west coast. Here you can try to battle the BEHEMOTH, two large patties smothered in bbq sauce, chopped cheddar cheese and bacon, and a pickle in between TWO GRILLED CHEESE SANDWICHES for buns. Definitely a monster of a truck. Follow them on Twitter @GrillEmAll.
ROKYO Truck – Japanese Ramen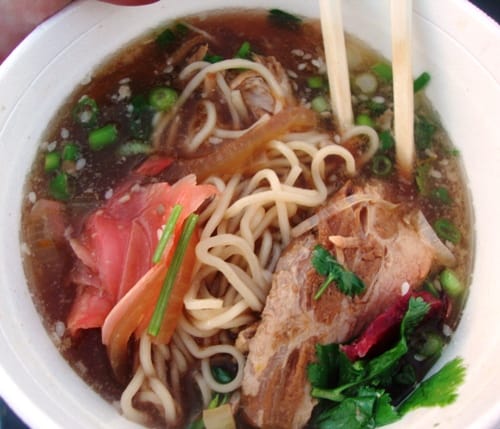 If you're craving a something more on the liquid side or are just tired of cheap microwave cup of noodles, Rokyo Truck, serves authentic style Japanese Ramen to go. You can enjoy miso or soy based broths with organic noodles with many toppings including chashu pork and boiled eggs. Rokyo truck offers a tradition Japanese experience on the streets. Follow them on Twitter @eatrokyo.
Another way to get your street food fix is to check out the many food truck meetups and festivals happening year round all over the Los Angeles area. It is worth it to check out the LA Street Food Festival and the DTLA Night Market for a variety of flavors from all over the world. EC Los Angeles will be going to the Santa Monica Food Truck Lot on Tuesday, July 22nd, so don't forget to sign up at the front desk!
Follow the links below for more but be prepared to loosen your belt!
http://www.findlafoodtrucks.com/
http://www.626nightmarket.com/
====
Find out more about studying English in Los Angeles.
Comments
comments