GET CREATIVE FOR THE HOLIDAYS!
♫ It's the most wonderful time, of the year! ♫
Everyone here at EC English School in Los Angeles would like to extend our best wishes for you all this holiday season.  To get you all in the festive spirit, we have compiled a few ideas to get creative and have fun with your families!
How To: Make One-of-a-Kind Ornaments
What You Need
– Clear Ornaments (local craft store)
– Glitter
– Scrapbook Paper, Decorative Tape, or Ribbon
– Double-Stick Tape
– Scissors
– Ribbon for hanging the ornament
1. Gently twist or pull top off the ornament.
2. Fill glass ornament with sparkly glitter.
3. Cut enough decorative paper so that it can wrap around the entire circumference of the ornament.
4. Using double-stick tape, attach the decorative paper to your ornament.
5. Cut ribbon to your desired size and tie a knot around the ornament's cap.
How To: Make Bright and Beautiful Candle Holders
What You Need
– Assortment of Jars (We used jam, mustard, and baby food jars.)
– Drinking Glasses
– Recycled Wrapping Paper
– Tissue Paper
– Newsprint and Magazine Pages
– Elmer's Glue
– Mod Podge
– Brush
– Votive candle
1. Cut paper into small shapes.
2. Squeeze Elmer's Glue onto the back of the strips of paper and adhere to jar.
3. When the jar is covered, brush Mod Podge over entire area, pressing down any bubbles. Let dry for an hour.
4. Place small votive inside.
How To: Make Edible Holiday Wreaths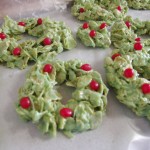 What You Need
– 1/2 cup margarine
– 40 regular marshmallows
– 1 teaspoon green food coloring
– 6 cups corn flakes
– Red cinnamon candies (red hots will work)
1. Melt margarine.
2. Add marshmallows and cook stirring until marshmallows melt and mixture is syrupy.
3. Remove from heat. Stir in coloring. Add Cereal.
4. Stir until well coated. While still warm, make into wreaths.
5. Decorate with cinnamon candies.
Be sure to check out our Facebook page to watch our Holiday message from EC Worldwide!!
Comments
comments