Ahmed Deghim (AD) is a student from Libya who studied in our Academic Year programme for 11 months. He started in the Elementary level and graduated from EC Los Angeles in the Upper Intermediate level. He was also one of our Student Ambassadors and proved to be a great asset in welcoming other students. Read more to find about Ahmed's experience in EC Los Angeles!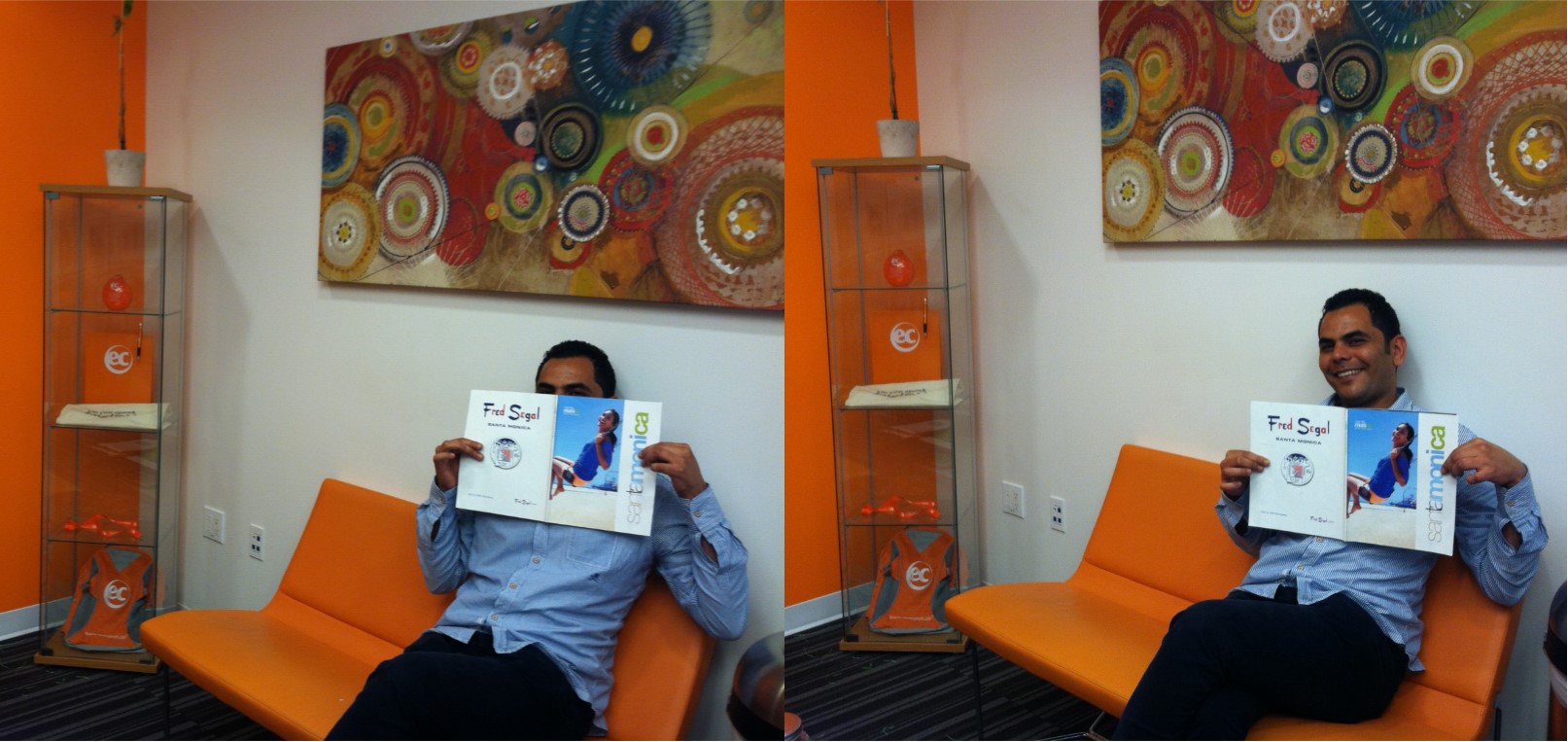 EC | What is your age and occupation?
AD | I am in my 30's. I worked as a Manager of Red Bull in 2002 for 3 years in Tripoli city, a capital of Libya. After that I had been working as a salesman in Castrol since 2005. In 2009, I began in a Castrol Distribution Manager in Libya. I had the necessity to speak with people from different countries so I needed to improve my language because the environment is so competitive.
EC | Why did you decide to study English in Los Angeles and/or Santa Monica?
AD | Honestly, I didn't have information about USA. My agency gave more details about the country and talked about EC, and they told me about the experience of the other students in that School. When I received all the information I decided to talk with my boss and asked him what are the best places in the US for me to improve my English. He advised me that Buffalo, Chicago, and Louisiana were good places to study because there are many people to speak English and few Arabic speakers. My agency told me that in California the EC schools were strong, so I decided LA.
EC | What will be your best memory of your time here in Los Angeles and/or Santa Monica?
AD | When I arrived in Santa Monica, I felt at home, because the city is similar than Tripoli. It's a little city but modern; it doesn't have many high buildings and you could the see the blue sky. The school is near the beach, not so crowded, and the people are very friendly.  It's a place where you have the opportunity to do different activities in your free time.
Find out more about Los Angeles activities.
EC | Do you think that your English has improved? Why?
AD | Definitely, at the beginning it was so difficult for me to express my ideas in English. I couldn't speak well and I didn't know how to explain myself correctly. I didn't have problems with understanding when someone talked to me, but my grammar was terrible!! Nowadays, I feel more comfortable to talk fluently and write.
Find out more about our ESL Los Angeles courses.
EC | Describe one or two of ECLA'S strengths
AD | Well I think that the activities in class are interesting because you learn English in a relaxed and funny environment. The teachers and staff are very respectful and helpful, and the work they do is very organized and creative when it's possible. Another strength was the alternating AM / PM schedule to take classes which you could organize and enjoy about the different ways to do in your free time. For example go out in the night and the next day going to class in the afternoon, it was awesome! In addition the school is a good central location, where the library is near and taking a trip to San Diego and San Francisco is easy.
EC | What advice do you have to give to students who are thinking about studying in Los Angeles?
AD | Come!  Because learning English fully immersed is so different than studying in your country for 2 or 3 hours a week. You would live in a place where all the people speak English despite that you will know a lot of people from different countries around the world. The difference in learning English in the US is that you have the chance to practice speaking and listening, which is different than receiving theory to learn the language. When you listen to different accents you improve your knowledge and your capacity to understand, it's a challenge for you! It was a very enriching experience and I recommend totally.
We already miss you, Ahmed! Thank you for sharing your experiences and making great memories with us during your time at EC Los Angeles.
Comments
comments