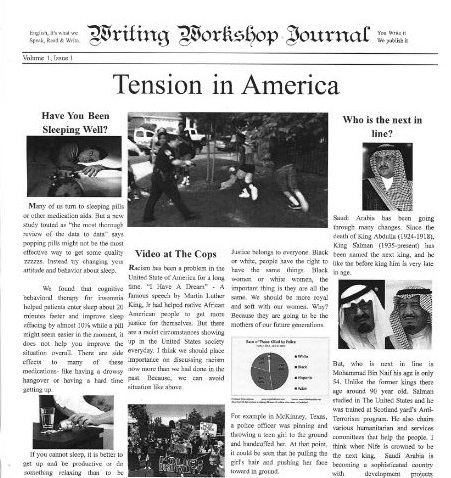 Students taking Writing Workshop at EC Los Angeles have put together a quality newspaper with opinion pieces, news reports, creative fiction, and reviews. One student wrote a sensitive article on the problem of racism in the United States. "I think we should place importance on discussing racism now more than we had done in the past. Skin color should not play an important role," he says.
Other articles are more funny and light-hearted. Two students gave film reviews on "Mad Max" and "Tomorrowland." Other students gave recommendations of places to visit in Los Angeles. For example, one student reviewed a Los Angeles hotel called "The Standard." The student described it a "trendy remodeled hotel and rooftop bar in the middle of Downtown, surrounded by very tall office buildings." According to the student, "The Rooftop offers the feeling of standing in the mountains.There is a heated swimming pool, dance floor, DJ booth, ect. In fact the ticket is free when no special events or during the day."
It is such a pleasure to read student perspectives of the United States and of their home countries. And it's such a pleasure to watch these international students write their thoughts beautifully in English!
Interested in improving your writing? Choose the best English course for you at EC Los Angeles!
Comments
comments